News


S t a t u r e
Stature individualy manufactured by artist
from your picture of yourself.
Please contact for more information.
New Works
made in Bratislava/Slowakei
Selection
Beschreibung des Projekts:
Die "Grevener Nadel" ist eine Skulptur, die den Betrachter nicht nur als Symbol an die
bedeutungsvolle Textilindustrie der Stadt erinnern soll, sondern auch daran, wie durch ein
winziges Objekt etwas Groβes entstehen kann.
Als einfaches schlichtes Handwerkszeug ist "die Nadel" selbst in der heutigen Zeit einfach
nicht wegzudenken.
Darüber hinaus ist sie ebenfalls ein Zeichen für Zusammenfügen und Zusammenhalten.
Das ist gerade in der heutigen herausfordernden Zeit ein bedeutender Faktor.
Der Mensch, sein Werkzeug, seine Schaffenskraft und Visionen sind in dieser Skulptur
sinnbildlich verschmolzen.
Durch seinen Schwung deutet der rote Faden sowohl Fortschritt und Richtung, als auch die
sanften Windungen der Ems an.
Emsdeich Projekt 2021
Skulptur/sculpture
Exhibition
-ANOTHER DAY IN PARADISE-
During 17th Venice Architecture Biennale 2021
Spacio SV. Scoletta di San Zaccaria, Venice, Italy
14.-25.August 2021
Apollo Art Gallery
2F, No. 218-6 Apollo Bldg.
Chung Hsiao E.Rd.
Taipei 10692
Taiwan
16.7. – 18.7.2021
Venue
Millennium Hotels and Resorts
No.77, Shizeng Rd., Xitun Dist.Taichung City 40756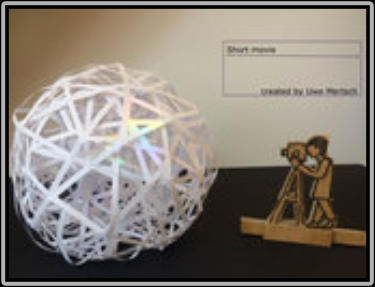 Titel: Everyday life between 4 walls
Content: How to transfer daily life into
Art during lockdown time?
The logbook each day 1 artwork shows
visualy simple objects from home
painted on paper in a sketchual
technique.
https://youtu.be/a6RUXTC2kR0
Titel: VLAD
Content: 2 different lifes collide
without meeting personally. One
oft hem prefers night time, the
other one daytime. Misterious
signs and the love for creativity
touch both their hearts.
https://youtu.be/sYy1QlUPNDI
Titel: Ein neuer Tag
Inhalt: Es beginnt ein neuer Tag
mit unglaublichen Ereignissen und
der Rettung der Kunst. War es nur
ein Traum?
https://youtu.be/Cmel5inAWa8
Titel: The Line
Content: A line is showing the
misterious way to meet the love of
his life in a unique way. I
https://youtu.be/wrIiqYwwfUs
Titel: The drop
Content: The shortest story to
save a landscape began with a
drop, attacked by a brush and
saved by the artist.
https://youtu.be/F7eot5lorF4